Harriet Benson Memorial Hospital
Partnering With Lalitpur Bible School...
Reaching Urban Lalitpur

| | |
| --- | --- |
| | |
EHA's Harriet Benson Memorial Hospital has partnered with Lalitpur Bible School to reach out to the community around them. Student interns from the school have carried out a health-issue survey of 900 households in the Azadpura urban area.

One of the key areas they are looking into is non-communicable diseases (NCDs) such as diabetes, heart disease, and cancer. These NCDs are now killing more Indians than the traditionally feared infectious diseases such as TB, HIV, dysentery, and viruses that lead to pneumonia. The challenge in stopping NCDs is that they are linked to lifestyles, and the effect of changing one's health behaviors takes a long time to see. There are no quick and easy approaches to solving these problems, but people want "a pill for every problem, a needle for every need."

To address these concerns, Harriet Benson has begun offering both breast cancer and diabetes awareness training, screening camps, and treatment clinics. Each month, they offer eight to twelve screening camps in the surrounding urban areas, and have found at least ten percent of the population to have diabetes. They then refer these patients to the diabetes clinic, where they receive education and treatment.


The National Health Mission officer heard about Harriet Benson's camps and asked them to do screening for the Urban Health Mission clinic that the government runs. Harriet Benson staff gave diabetes education and screened participants along with the government health workers. This collaboration with the government health authorities is excellent for both parties. Pray that they could work together more in the future.

A Young Boy Experiences Healing...
On the Road to Recovery

Suresh could not walk, speak, or hear properly when he was brought into EHA's Harriet Benson Memorial Hospital. He had been through a horrific accident where he was dragged by a vehicle for some distance, losing much of the skin on his side and thigh. His parents brought him in, desperate for healing for their son. Thankfully, the man who had driven the vehicle in the accident agreed to pay for part of the medical treatment. Otherwise, the parents would have struggled to pay the hospital bills.
After much medical care, Suresh was stabilized and strengthened. As is sometimes the case, one EHA hospital will have a specialist that another one doesn't have, so in this case, Suresh was sent with Dr. Sujith to Broadwell Christian Hospital for two skin grafts. Suresh's healing was dramatic, and he is now able to walk. Please pray for this young boy and his parents as they continue to walk on the road to recovery.



Thyle Residency...
Phase Two Has Begun

After a generous donation from Mission Direct in the UK, Harriet Benson Memorial Hospital has taken a step of faith to begin adding on two more apartments to the new Thyle Residency. This will bring the occupancy of this facility up to eight families.

The current goal is to lay the slab for the roof and get the walls up around the two new apartments before the rains come in mid June. The same construction team that built the original structure last year is working on the addition. Please pray for safety for the workers and for God to provide the additional funding needed to finish this addition.

Preemie in Danger...
Tiny Baby Boy Is Nurtured to Life

She was only seven and a half months pregnant, but her water had broken, she had developed a fever, and her labor pains had begun. Lalitha had first gone to the governmental district hospital, but they sent her away, saying she needed to go to a more advanced facility. She chose to come to EHA's Harriet Benson Memorial Hospital. The couple seemed resigned to losing their baby and had given up hope. EHA's medical team agreed to admit Lalitha, but they were not very optimistic about the baby's chances.

Late that night, a 2-pound baby boy was born, and to everyone's surprise, he let out a feeble cry. He was alive! He needed oxygen, warmth, fluids, medicine, and a lot of grace. As he stayed in the hospital, his bill continued to climb, and the relatives asked the hospital to release him since his chances were still bleak. But the hospital staff knew that if this tiny baby went home, he would die there, so they talked the couple into leaving the child at the hospital for continued care at no cost to them.

As the days passed, this little boy repeatedly fought for life. The entire medical team prayed and cared for him. At times he would give them a scare and stop breathing, but each time the faithful nurses and doctors would notice and rush to resuscitate him. The staff loved the baby and named him Ashish, which means "blessing" in Hindi.


So far, little Ashish has survived for a month, and he has gained strength and some weight. His parents have come to the hospital to hold him. He is still precariously delicate, but he is a constant reminder that God is working among us.

Snapshot of Harriet Benson Memorial Hospital...
Teams Bring Relief in Many Forms

When the Community Health and Development Program (CHDP) team came to Gadiya village, Rekha was thrilled to be chosen as part of the cash-for-work program to improve water retention on agricultural land. The income she was able to earn allowed Rekha's family to not have to migrate to the city to look for work, and she is thankful for the option to stay home and make money to buy wheat to feed her young family.
For 40 years, the CHDP teams at EHA's Harriet Benson Memorial Hospital have been bringing aid to poor villagers in various ways. They currently have a focus on water conservation land treatments because of the drought caused by limited monsoon rains in both 2015 and 2016. Crop failures have caused widespread famine and family migration (called "distress migration"). Such trips often end in heartache, with villagers falling prey to illness and child trafficking.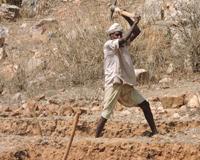 This cash-for-work program benefits these communities in two ways: it provides income for the men and women who work on the project, and it improves the water retention of the areas where essential village crops are grown. Often this income makes the difference between these families having food on the table or going hungry. The CHDP teams focus their efforts on the fields of marginalized people who need the most help -- widows, disabled people, and those from undesirable castes and tribes. This work is further strengthened by helping to set up self-help groups and farmers' clubs that work on improving savings and investing in new livelihood opportunities in the villages.
Another significant Community Health and Development Project at Harriet Benson focuses on reproductive and child health. In the villages where the CHDP teams serve, underage marriage is rampant, with between 72 and 84 percent of the girls from undesirable castes and tribes marrying before the age of 18. The project works with young mothers to improve adolescent health and encourage safe motherhood. The primary activities are to monitor and follow up with pregnant women to get quality antenatal care, to aid lactating mothers and their infants, and to improve the overall health of young people. Additionally, in these villages, five percent of children under five years of age are classified with Severe Acute Malnourishment (SAM) with many more underfed. Infant mortality is 73 per 1,000 (US infant mortality is 6 per 1,000). Children found with SAM are sent to Nutritional Rehabilitation Centers, and moderately malnourished children are enrolled in Mother's Feeding Clubs to help increase their weight and empower local women to better feed their children using local resources.
Two other project areas seek to help people with tuberculosis (TB) and people with disabilities. Village-level awareness meetings are held, as well as door-to-door visits, to help people understand the symptoms to look for with TB. Those who are suspected of having TB are tested, and the team gets them started on the free TB treatment offered through the government DOTS facilities. In the 15 villages where the team actively helps the disabled, they identify individuals who need help and work to get them entitlements such as disability certificates, pensions, and assistive devices. They seek to include people with disabilities in their community activities and volunteer projects.

Thanks to an EHA Team...
Dependent No More
She was only 19 when she went to get some mud to repair her katcha (mud) house when a huge rock fell on her back and she was unable to get up. Her brother took Seema to several hospitals, but all the doctors said the same thing -- she was paralyzed and would never walk again. Forced into dependency on her mother and brother, Seema spent her days on a small bed feeling useless.
Seema tries out her sewing machine


While conducting awareness sessions in Seema's village, the Palliative Care team from Harriet Benson Memorial Hospital heard about her situation. Going to visit, they enrolled her in palliative care and sought to find her some means of making an income. Since Seema knew how to tailor, the team gave her a sewing machine. Thrilled with her new tool, Seema is now able to support herself by making kurtas and dresses to sell. Reaching out to the hurting and finding solutions to their problems is just one way EHA teams show love and make a difference in other's lives.


At Harriet Benson Memorial Hospital...
Bacon Memorial Training Center Opens

Dr. Anne Thyle cuts the ribbon
New facilities at EHA hospitals always make life easier for the staff. The newly renovated training center at Harriet Benson Memorial Hospital now provides a clean, modern environment for small groups, workshops, meetings, conferences, training programs, and retreats. The center houses a large conference room with an LED projector, several smaller meeting rooms, guestrooms, and a dining room.

Quite a few of the antique furnishings date back to the building's use by Mrs. Elizabeth Mercy Bacon, who founded the hospital at the turn of the century.
The Verandah provides a place to relax
Plans are underway to use the center for classes for the Certificate Program in Palliative Care offered by the Indian Association of Palliative Care, as well as various EHA training sessions.







Through HBMH's Eye Clinic...
The Blind Receive Sight
Pukhan, from Jakhaura village, had been blind in one eye for two years. Before cataract surgery, she could detect motion but not see anything clearly. At her follow-up visit a week after surgery, she laughed delightedly as she counted the fingers held up by Suresh, HBMH's eye technician.
Smiling Pukhan
Pukhan is one of thousands who struggle with varying degrees of blindness in India. Many suffer from cataracts and have no idea where to go for help or how to afford eye care. One study estimated that there are 15 to 18 million blind people in India.

HBMH has an eye department but no resident ophthalmologist. Suresh does refractions to test eyesight and fit people for glasses as well as check people in the out-patient department for other issues including cataracts. When there is a need for surgery for a number of people, a visiting ophthalmologist comes in for an eye camp. In a typical camp, an amazing 85 people have cataract removal surgery in one week. This life changing procedure brings joy and hope to many who have nowhere else to turn. And sometimes having their physical sight returned to them awakens in them a desire to hear about spiritual sight from the doctors and nurses who treat them in love.

At Harriet Benson Memorial Hospital...
Amazing Healing for 8-Year-Old Girl

Mamta
She came to the emergency room in the middle of the night, suffering from fever, abdominal pain, and distention.Her relatives were encouraged to take her to a hospital with more advanced facilities, but they were unable to afford or handle such a journey. Since Mamta was only eight years old, the doctors at Harriet Benson were especially leery of operating on her, as they didn't have a trained anesthesiologist. As her condition worsened, they prayed about what to do. Four days into her admission, an anesthesiologist visited the hospital, and they took advantage of this provision and scheduled surgery.


Mamta and Dr. Ann Thyle
The surgeons opened her abdomen and discovered a perforation in her small intestine which had caused pus and fecal matter to fill her entire abdomen. Worse, Tuberculosis had ravaged her intestines. Everyone felt her chances of survival were very low, and the surgeon exclaimed that her recovery would take a miracle.

Surprising everyone, Mamta survived the ordeal of major abdominal surgery and was soon on the path to recovery. Everyone felt this showed divine intervention. Then a setback occurred. Even while on anti-TB medications, the mycobacterium began to cause havoc again. She needed a drain to reduce the fluid in her abdomen as her body began to fight the bacterium. As the days progressed with dressings, antibiotics, and loving care combined with prayers, one miracle followed another and soon Mamta was ready to go home. After two months in the hospital, her subsidized bills were paid by World Vision. All of the staff felt that Mamta's healing could only have been brought about by God through the faithful, healing hands at Harriet Benson Memorial Hospital.

Through the Harriet Benson Community Health and Development Project...
School Opportunities Are Realized

Ajeet
One key role the Community Health and Development workers fulfill is that of encouraging education. One 7-year-old boy named Ajeet had a congenital visual impairment, and his family had given up on school for him. When a project worker talked with them about providing education for Ajeet through a residential school away from their neighborhood, they were amazed. After three months at school, Ajeet can count up to 100 and knows the alphabet in Hindi and English.
Shobha
Another student seeking education was Shobha,
whose mother died when she was two. Raised by her grandparents, Shobha was forced to stop her education after the eighth standard (similar to eighth grade) because there was nowhere nearby to continue. Her grandparents thought she should just get married and forget about school. When the project worker spoke to her grandparents, they initially resisted the idea of seeking more education for Shobha. Eventually, the worker's persistence won out, and Shobha now attends an intermediate college in Bansi. She is thrilled to have this opportunity. Changing lives through education is just one way project workers are making a difference for these students.
About Harriet Benson Memorial Hospital
In 1890 the Reformed Episcopal Mission of the United States sent Mrs. Elizabeth M. Bacon to Lalitpur to open a mission station attached to a small hospital and school. Regular medical work began in 1934 with a full-fledged hospital run by dedicated expatriate missionaries for the next four decades. In 1973 the mission turned the management of the hospital over to EHA. Currently, their service priorities include treating women and children, eyecare, and surgery. The hospital serves the Lalitpur district with a population of close to one million, 70 percent of whom live rurally.
Harriet Benson Memorial Hospital offers eye surgery camps in which hundreds of free cataract surgeries are done each year. Thousands of children have their eyes screened as well. During the free plastic surgery camps, many cleft lips and cleft palates are corrected through surgery. Recently they added a palliative care program with a seven-bed ward. In this department they care for terminally ill patients, reducing their pain and helping patients and their families as they deal with illness and eventual death. Many of the patients have cancer, and many are cared for in their homes where they can be among family members as long as possible
The Lalitpur Community Health and Development Project has several facets. Health camps are organized in various communities and information about personal hygiene, sanitation, and communicable diseases is taught. HIV/AIDS programs regarding stigmas, prevention, and gender sensitization bring about awareness in the communities. Self Help Groups teach members to save their income, become literate, and make use of government programs which benefit them. Eligible people are taught to claim disability certificates, widow certificates, and pensions. As the staff of Harriet Benson Memorial Hospital and the Lalitpur Project reach out to these people with medical care and practical assistance, the door is opened for them to share the good news of God with the lost.